It carries the strong Haidilao hotpot brand, but without the service: it's self-heating hotpot. Hit or miss? We tried it out for you.
Since 2017, self-heating hotpot meals have become somewhat of a trend in China and beyond. These 'hotpot' meals heat themselves due to a chemical reaction. When the water is poured over the heater pad, the heater releases enough heat to warm up a pre-cooked meal 100 degrees in approximately 10 minutes.
There are various brands out there that have started adding 'self-heating hotpot' to their product line, but it's the Haidilao one that really caught our eye this time.
Haidilao (海底捞) is a brand that's become super famous in China since it launched almost 25 years ago. It is a hotpot restaurant chain, with locations all across China and overseas, that is especially known for its excellent service.
Those who've ever visited will probably know that Haidilao's service is so good, that besides the free snacks and drinks, they even offer manicures to customers while they are waiting for their table.
Besides its restaurants, Haidilao also has a product line that includes hotpot broths and sauces. The Haidilao brand is now more successful than ever: in 2018, the company had an all-time high annual revenue of nearly 17 billion RMB ($2,5 billion).
One of the products that have been added to the Haidilao line over recent years is the "hotpot for lazy people": a self-heating hotpot, available in various flavors.
On this occasion, I purchased the Hot & Numbing Beef (麻辣嫩牛) flavor. It is priced around 40 yuan ($6), although some online stores offer discounts when purchasing multiple products at once.
All you need to prepare this hotpot is cold water, nothing more. This makes the 'self heating' hotpot popular among travelers, students, and office workers.
You could basically have a warm meal wherever you are. The package contains various packages of ingredients, two bowls, chopsticks, a spoon, and one heating package.
The packages contain processed beef and tripe, noodles, lotus root, potato, kelp, wood ear, bamboo shoots, and numbing chili broth base.
All ingredients need to be unpacked and put into the white bowl, which then needs to be filled with water up to the marked line within the bowl.
The heating pack also needs to be unwrapped and placed inside the black bowl. Add some cold water to the black bowl up to the marked line.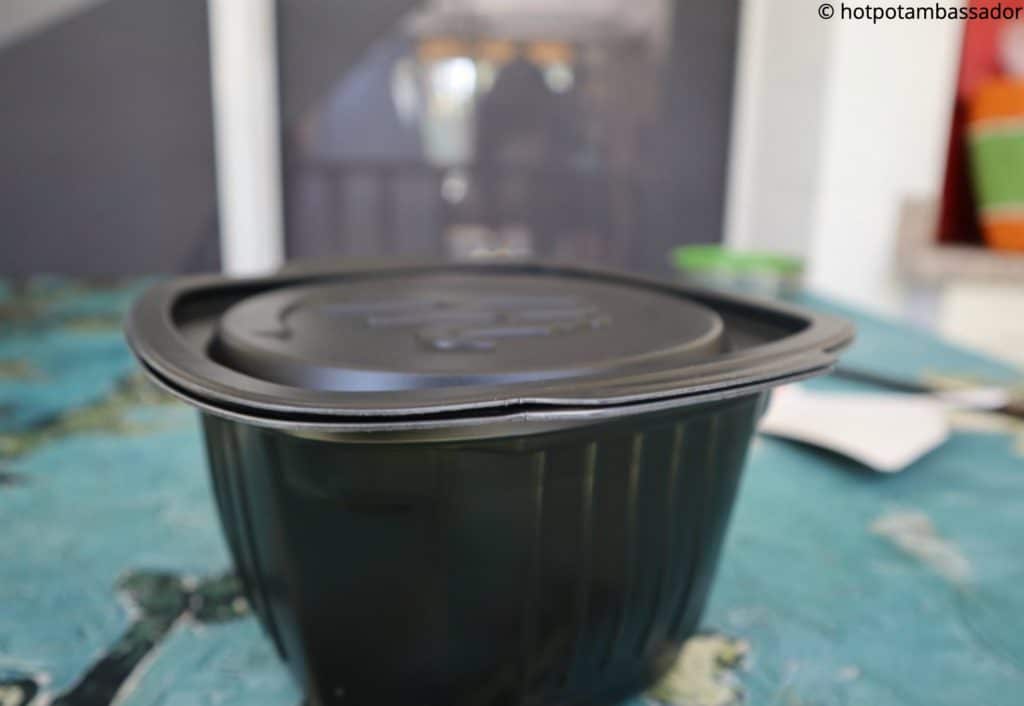 The heating pack will start to react right away, so you'll need to place the white bowl inside the black bowl and put the cover on it, so it can start boiling.
Let the bowl work its magic from some 15 minutes. The steam will come from the cover.
After this time, you can take off the cover and properly mix the ingredients.
The first image below is the way the Haidilao self-heating hotpot is promoted on the official website, the image below that is how the self-heated Haidilao actually looks once it is ready to eat.
To be fair: the Haidilao self-heating hotpot really is not bad at all. It is tasty, it is spicy, and has a nice mix of ingredients, the crunchy lotus root is nice with the soft noodles and kelp.
Nevertheless, the product is somewhat disappointing because of what we know about the Haidilao brand and how tasty it really is. This comes nowhere near to the hotpot quality of the Haidilao chain. The ingredients, obviously, aren't fresh, which also makes them taste somewhat bland.
Also take into consideration that for China, paying 40 yuan for an instant meal is not that cheap, and people could easily get a full noodle or baozi meal with a drink for the same price, depending on where they are.
The plus side:
– Easy to make
– No need for any other things to prepare this meal, besides cold water
– You can take a hot meal with you wherever you go, even if you're out camping
– Nice spicy flavor
– There's plenty of ingredients to make this very filling for lunch or dinner
Downsides:
– Relatively expensive
– No fresh ingredients
– No 'Haidilao' experience/flavor
All in all, trying out the self-heating hotpot is a fun experience in itself. Personally, I favor the self-heating hotpot brand that I tried out here, but Haidilao is not a bad option. Of course, there's nothing better than actually going to a Haidilao hotpot restaurant, or to make your own hotpot at home.
By Manya Koetse
Follow @manyapan
Images by: Hotpotambassador.com
©2019 Hotpot Ambassador. All rights reserved. Do not reproduce our content without permission – you can contact us at info@hotpotambassador.com.