Istanbul's prolific Uyghur community has shaped the view locals have of East Asian cuisine – including the rather recent addition of hotpot. Hotpot fanatic Adam goes on the hunt for Uyghur hotpot in the Turkish capital.
It all started with a Facebook post about a new hotpot place in town, and not only that – an Uyghur hotpot place.
Although it is the only city in the world to straddle Europe and Asia, Istanbul isn't exactly spoiled with good East Asian cuisine restaurants, and I'd yet to find a particularly good hotpot restaurant.
But what was this Uyghur type of hotpot I'd never heard of before? I was curious to find out and went out to investigate.
Yangindağ Hotpot
Yangindağ is located in the student area of Çapa-Şehremini in the Fatih district of Istanbul, a well-known hub of immigrant cuisine featuring numerous Central Asian and Middle Eastern restaurants. Among these are a large number of Uyghur restaurants.
These restaurants offer up slightly different takes on Uyghur cuisine, with some restaurant menu evergreens from greater China thrown in for good measures.
They nearly all serve the beloved central Asian dishes of hand-pulled Lağman noodles and Pilaf rice, but this was the first time I'd seen hotpot mentioned on any menu.
Yangindağ is a modern, brightly decorated place with a youthful clientele – almost certainly students from nearby Istanbul University.
The set-up is that of self-service hotpot: small, individual pots, and a central conveyor-belt where typical ingredients such as fish balls, tofu, and leafy greens are trudged around in a circle.
Broths come in the choice of neutral, medium spicy, and spicy. There's a separate table where you can mix your own dipping sauce.
The set-up reminded me of similar places I'd seen in several cities in China, particularly in studenty areas – fun and gimmicky with decent quality food.
At Yangindağ, I came to talk to two young women sitting next to me. One of them, a Turkish student, told me her friend sitting next to her was Uyghur and the one who introduced her to this place.
I asked her if this food was particularly Uyghur. She politely explained that the issue was "complicated" but that Uyghur and Chinese food is sort of a mix these days. We did not further pursue the question.
The Uyghur 'Brand'
Some days later, I stumbled upon yet another restaurant, a modest noodle joint called Akyol Uyghur Lokantasi, and to my delight discovered a hotpot section in their menu.
Here, they offer the choice of a non-spicy and spicy broth in a 'Yuanyang' pot (double-flavored pot), which is very common for any hotpot restaurant. There didn't seem to be any kind of clear trend emerging among the Istanbul Uyghur hotpots.
On the homeward-bound tram ride, I wondered about the prevalence of Uyghur restaurants in Istanbul, and the total anonymity of the city's few Chinese restaurants. In what other major world cities do Uyghur restaurants outnumber mainstream Chinese restaurants?
The Chinese restaurants that do exist are not well signposted and seem to cater mostly to the large guided groups of Chinese tourists that pass through the city every day.
The history of Beijing-Ankara relations is complicated, and the idea of Turkic solidarity for the Uyghur people occupies an important place in local political culture.
Recent public outcries of anger over Beijing's policies may, in fact, have led to ostensibly "Chinese" restaurants rebranding as Uyghur ones to avoid being the target in times of worsening Chinese-Turkish relations.
'Uyghur' here works as a brand that can encompass a nice mix of anything culinary from Beijing to Ürümqi – perhaps including hotpot.
'Istanbul Hotpot'
I was still curious: is there actually such a thing as an Uyghur- or perhaps Xinjiang-style hotpot? I turned to the internet, where it is suggested that there might be something like a "Xinjiang characteristic" hotpot, although it is not entirely clear what its essential quality actually is.
One report from southern Xinjiang describes the local variant as a specific set menu featuring mutton, tofu and sweet radish with a clear mutton broth served in a Beijing-style pot. Another source suggests that the only unique feature of 'Ürümqi hotpot' is the use of particularly fresh local mutton and beef.
Some days later, I was walking around the southern Istanbul suburb of Zeytinburnu, known as the main hub for Uyghur and other central Asian immigrant groups. Almost every block sports an Uyghur grocery store or restaurant.
A few weeks later, I was browsing Istanbul's main Uyghur neighborhood and was happy to stumble on another restaurant with a "hotpot" sign.
The restaurant's Turkish name Saray Semaver Lokantası translates to something like "Palace Samovar Restaurant" and their business card described them as a "Çorbahane", or soup kitchen.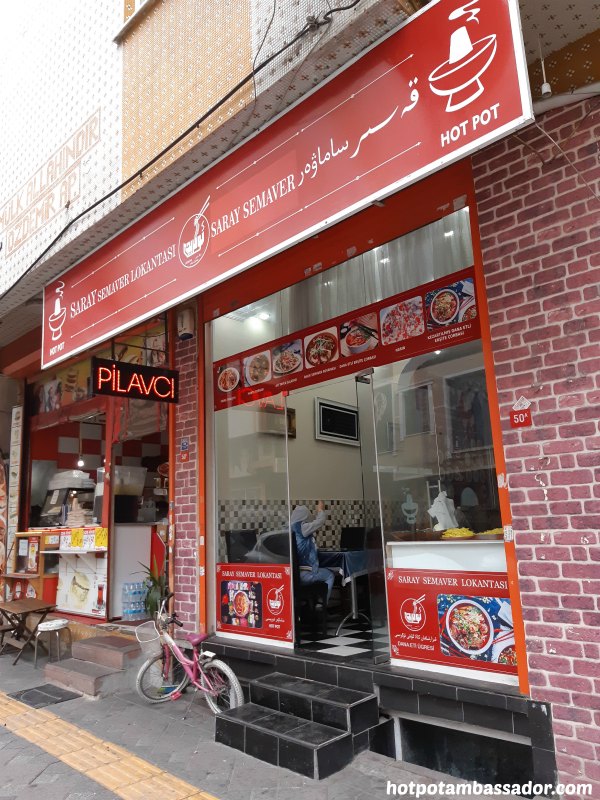 I learned they offer a range of broths from mild to spicy, served in Beijing style pots. They offer a modest dipping sauce buffet and homemade vinegar. The menu is in Uyghur and Turkish only, with no Chinese characters to be seen.
The advantage of Uyghur hotpot restaurants such as these is that you can also order the tasty lağman noodles.
I'll surely come back with friends to try yet another take on Istanbul's 'Uyghur hotpot' – perhaps we should call it 'Istanbul hotpot' instead?
Info
Yangindag Hot Pot
Topkapı, Pazar Tekkesi Sk. No:6, 34093 Fatih/İstanbul, Turkey
Akyol Uyghur Lokantasi
Meçhul Asker Sk. No:15, 34080 Fatih/İstanbul, Turkey

Saray Semaver Lokantası
Nuripaşa, 34025 Zeytinburnu/İstanbul, Turkey
–By Adam Sarac
All images by: Adam Sarac / Hotpotambassador.com