Mix hotpot with retail, and there's a recipe for success. Hotpot Supermarkets are the perfect solution for an easy hotpot grocery shopping experience, offering everything you might need for your home hotpot night -and more- in one store.
China's hotpot market has been growing for years. With the rising popularity of home hotpot, so-called 'hotpot ingredient supermarkets' (火锅食材超市) have been sprouting up all over the country.
While those planning a home hotpot dinner would usually need to go shopping at the supermarket and vegetable market to gather all of the different ingredients, the 'hotpot supermarket' provides the perfect solution for an easy hotpot grocery experience, providing all the fresh ingredients you might need for your hotpot night in one convenience store-sized shop.
Having hotpot at home was never more popular than during the COVID19 pandemic. Although people usually go to restaurants for their hotpot gatherings, the epidemic and the various social-distancing measures made more hotpot lovers recreate a restaurant hotpot experience at home. Many hotpot restaurant brands seized this opportunity to open up their own hotpot supermarkets.
There is more to these hotpot supermarkets than the convenience of only having to visit one store for all your hotpot needs; it also saves customers a lot of time on cutting and preparing the food for the hotpot table. Since the general hotpot process is very straightforward, with people basically cooking their own food in the simmering hotpot, the preparation of the ingredients usually takes the most time: washing the vegetables, cutting the ingredients, mixing the sauces, etc.
Hotpot supermarkets provide customers with pre-washed, pre-cut, ready-to-cook ingredients, turning the hotpot at home process into a piece of cake. Hotpot brand 'Lazy Bear' (懒熊) promotes its hotpot stores with the promise of "five minutes of ingredient shopping, and the hot pot is ready to eat in five minutes."
An additional reason hotpot supermarkets are popular has to do with consumers often trusting well-known hotpot brands for their good quality products and services. For many consumers, buying fresh meat and veggies from a major hotpot brand such as Haidilao is a different experience from buying vegetables, seafood, or meat from their local marketplace. Branded hotpot supermarkets often also offer products that are unique to the brand, so people who really like the Haidilao chain, for example, will value their supermarkets even more because it gives them easy access to Haidilao products, from their own brand sauces to the Haidilao beer.
A Short Hotpot Supermarket Overview
Although hotpot supermarkets did not fully flourish in China until 2020, the phenomenon first arrived in China some years prior.
Online hotpot stores existed before, but Guoquanshihui (锅圈食汇) was the first brand to open up a physical 'hotpot convenience store' in Zhengzhou in 2017. Over the course of the years, the company quickly expanded and had opened over 3600 (!) stores across China by 2020 (Jiemian.com, Ebrun.com).
Another hotpot brand being one of the first to enter the 'hotpot supermarket' business is Lazy Bear (懒熊), which opened up its first shops in the year 2019 and was partly acquired by tech giant Bytedance in 2020.
The rapid growth of Guoquanshihui and Lazy Bear showed that there is definitely a market for physical hotpot supermarkets in China. With the outbreak of the novel coronavirus in early 2020 and the surging popularity of home hotpot, the hotpot convenience store business saw an enormous boom with new hotpot convenience store chains arriving one after the other.
China's hotpot giant Haidilao opened its first hotpot supermarket in a Beijing university neighbourhood in late 2020. Another popular chain, Mr. Frozen (冻品先生) also opened its first offline hotpot supermarket in December 2020 in Taizhou, Zhejiang (36kr.com).
But there are more brands out there, including the World Hotpot Stores (我的锅食材超市), Huoguo Wuyu (火锅物语), Shuhuashuo (蜀话说), Chuangdinghui Hotpot (川鼎汇火锅), Jiupin Huo (九品锅火锅), Hot Circle (辣圈火锅), Xiaosichihuo (小厮吃货火锅), Taotailang (淘汰郎火锅), Shuanbianli (涮便利), Chuan Xiaobing (川小兵), Chater Bear (查特熊火锅), and others.
More Than Hotpot: What's for Sale?
So what is usually for sale in these hotpot convenience stores? Typically, these stores will have a section for hot pots (electric, self-heating, or classic), hotpot utensils, common ingredients, hotpot soup base ingredients, dipping sauces, beverages, and snacks.
Virtually all of these supermarkets have a frozen section, where you'll find lamb, beef, and other pre-cut meat selections in plastic containers. But there is also a fresh meat, tofu, and seafood selection in the cooler section. Meat is also available in skewers, which saves a lot of time for home hotpot parties.
The hotpot soup base section is typically filled with home-brand bases, going from spicy to mild, from clear style to Chongqing style, and in different flavors. Then there is the vegetable section, all washed, cut, and ready-to-serve. There usually are different kinds of noodles to pick from. These hotpot convenience stores usually also sell a wide variety of drinks, from beer to tea and different kinds of sodas and lemonades.
But to what extent are 'hotpot supermarkets' really still all about hotpot? A recent article by Chinese media platform 36kr suggested that Chinese hotpot supermarkets are gradually losing touch with their core business, as they have started to focus more on selling tea, fresh fruit, ice-cream, and other products unrelated to hotpot.
Most hotpot supermarkets already focused on hotpot + BBQ ingredients before, but since most of the COVID19 measures were already lifted in China last year, the business has been less booming as people have been shifting back to restaurant hotpot dining.
The hot summer weather has also contributed to the decline in home hotpot dinners – with people being more inclined to go out for food instead of staying at home for the more winter-suitable hotpot. But more importantly, the very fact that the hotpot supermarket industry has exploded over the past year has made existing stores look for alternative ways to make money in this competitive, crowded market.
The article by 36kr notes that many hotpot supermarkets are becoming less like hot pot ingredient supermarkets, and more like convenience stores.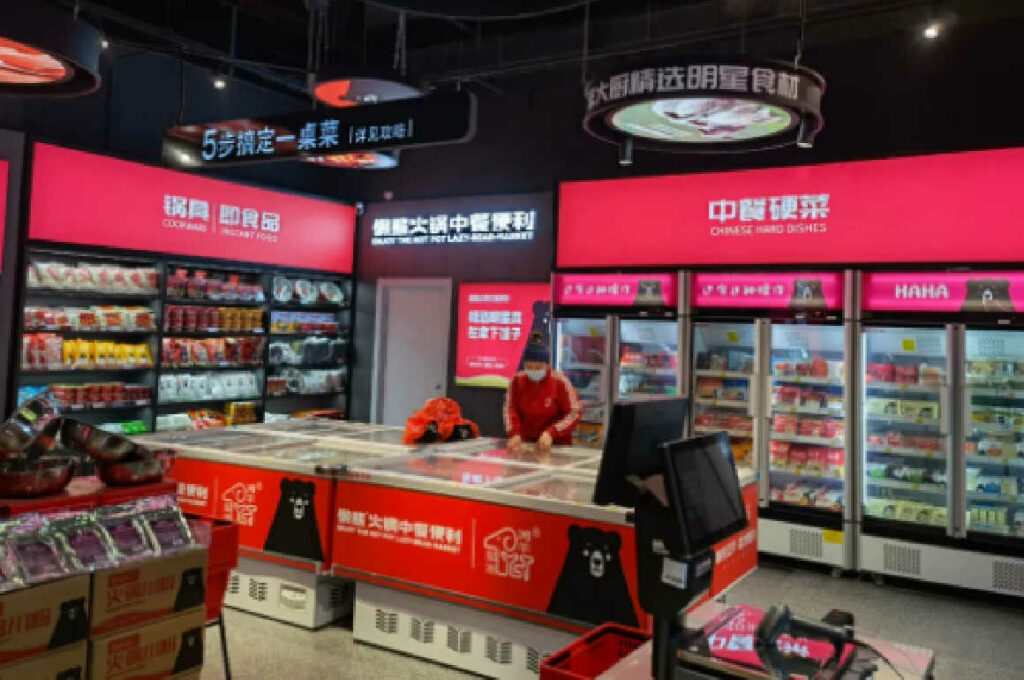 The fact is that hotpot supermarkets already face enough competition from regular supermarkets; if the market becomes overheated with too many 'hotpot supermarkets' around, they quickly lose their unique selling point and need to look for alternative ways to boost income and keep customers coming, also because their prices are usually higher than those of regular stores.
Perhaps these brands should look beyond their borders? There are still so many places where there are enough ice cream and soda shops, but hotpot ingredients are more difficult to find. If not, they will just need to keep their supplies limited and stick to their hotpot business. After all, trends may change, but hotpot is here to stay.
By Manya Koetse
Featured image by: https://www.sohu.com/a/460748229_413933