Since one of China's most famous food critics called hotpot 'uncultured,' Chinese netizens and media step up to defend hotpot culture and its history.
Over the past few days, a so-called "Hotpot Defensive War" (火锅保卫战) has broken out on Chinese social media. The reason for the controversy is the comment made by food critic Chua Lam (蔡澜) in a popular talk show that hotpot is an 'uncultured' cooking style that might as well disappear (read here).
His comments were made after one of the talkshow hosts asked him what food he'd rather see disappear if he had to choose one.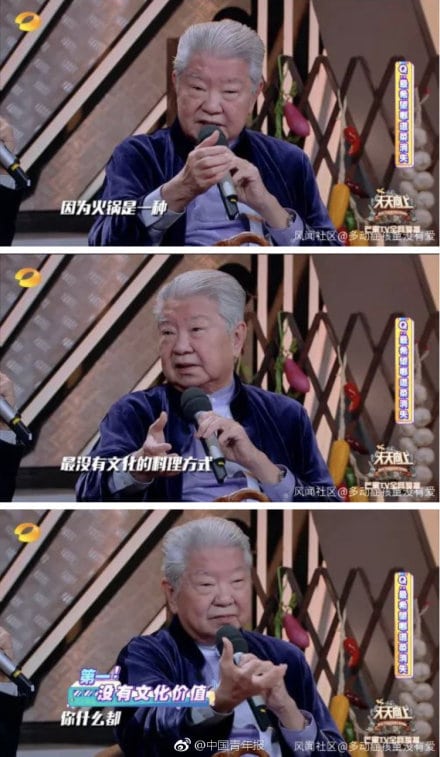 Although many Chinese netizens have responded to the issue with tongue-in-cheek comments, there are also those who are taking the controversy a bit more seriously, arguing that hotpot is an essential part of Chinese food culture.
On January 4th, Chinese media outlet Yangtse Evening Post (扬子晚报) published an article in which author Yang Yan (扬眼) questioned if hotpot indeed has as little cultural significance as Chua Lam suggests.
Someone defending the cultural significance of hotpot is Yang Tiefang (杨铁锋), who is a 'hotpot expert' affiliated to the Hotpot Committee (火锅委员) of the China Culinary Association (中国烹饪协会).
According to Yang Tiefang, hotpot is one of the basic ways of preparing food, together with roasting (or barbecuing), which has a long history.
The 'predecessors' of the hotpot are pottery stoves and pots, which have been unearthed in Zhejiang and other places, dating back some 5000 years. Starting from the Chinese Bronze Age (1700 BC) the first small 'hotpots' began to be used.
From the Han Dynasty (206 BC–220 AD), various 'hot pots' have been unearthed from tombs. The Nanjing Museum shows how the generation of Emperor Gaozu of Han (Liu Bang) was already enjoying "Mandarin duck hot pot," allowing 5 kinds of ingredients to be separately cooked in the same pot at the same time, much like the Jiugongge (九宫格) style hotpot is used at present.
As past controversies have shown, the actual history of hotpot is a contested area, with various regions or cities in China claiming they are the "home of hotpot."
According to Yang Tiefang, this makes sense. He claims that the way of cooking hot pot has existed since ancient times, but that the origins of hotpot vary from place to place.
In other words; it might be possible that hotpot finds its origins both in Inner Mongolia and in Sichuan or elsewhere, simply because people were cooking this way across different places at the same time. This also explains the very different hotpot styles that can be found in China (and in other countries): there simply is not one "classic" hotpot style.
The Yangtse Evening Post article explains that later on in history, during the Qing Dynasty (1644-1911), hotpot was not just popular among the people, but was also a famous 'court dish,' with imperial menus also showing that 'wild game meat hotpot' was a favorite dish.
One of the biggest hotpot feasts known is that of the Jiaqing Emperor who reigned from 1796 to 1820. To celebrate his accession to the throne there was a banquet that allegedly included a total of 1550 simmering hot pots.
Another hot pot feast that has been included in written history records, is that of the Qianlong Emperor (1711-1799) who once threw a hot pot party with 530 tables, each table having two hotpot sets.
This article on Chinese imperial cuisines also illustrates that the Qianlong Emperor had a preference for hotpot, the menu including "a hot pot of chicken with bird's nest and pine nuts; a hot pot of chicken, smoked meats, and Chinese cabbage," and "a hot pot of shredded lamb stomach and shredded mutton."
The Empress Dowager Cixi (1835-1908) also seemed to have been somewhat of a hotpot fanatic, with a preference for "chrysanthemum" hot pot containing chicken extract or pork soup, raw chicken or fish, and fragrant chrysanthemum flower petals.
Yang argues that hot pot is not only a type of food, but that it contains the meaning of Chinese food culture: when eating hotpot, men and women, the elderly and the young people, friends and family, all (re)unite together at the table, eating, talking, and enjoying the process – capturing the essence of traditional Chinese (food) culture.
Meanwhile, on social media network Weibo, the discussions continue, much to the amusement of some who say "Finally someone has said it, I don't want to eat hotpot anymore!" and: "You're all so serious in this discussion, it's funny."
"It's better to say Western-style food should disappear, and let's start with salads!"
For others, the essence of the discussion is fairly simple: "To say that hotpot lacks culture, that lacks culture!"
By Manya Koetse
Follow @manyapan
©2019 Hotpot Ambassador. All rights reserved. Do not reproduce our content without permission – you can contact us at info@hotpotambassador.com.